Jurassic World: Dominion Dominates Fandom Wikis - The Loop
Play Sound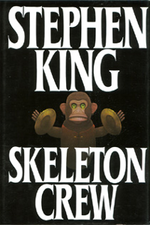 The Monkey
[
]
pg. 163

The monkey is said to have "…murky amber eyes…". Later however (pg. 172), King writes "Looking over the top was a pair of glassy hazel eyes.". The eyes are again referred to as hazel on pages 180 and 192.
The Man Who Would Not Shake Hands
[
]
pg. 328

George tells us "There were four of us who were ready to sit down and play poker; we only wanted a fifth to make the evening a go.". King then writes that Jason Davidson tells him that George Oxley will not be coming due to a broken leg. This is when Henry Brower asks if he can join as the fifth. Yet when they all sit down (pg. 329-330) there are six at the table so they already had the five players they were supposedly waiting for.

Players listed in order of their arrival/introduction at the table are (1)Henry Brower and (2)George Gregson. (3)Jason Davidson -who introduces- (4)Darrel Baker, (5)Andrew French, and (6)Jack Wilden.
pg. 331-334

The final hand (seven-card stud) is described over several pages, but there are several problems with the last hand:

French calls seven-card stud, yet the players only get six cards. The initial three (2 down, 1 up) then 3 more rounds of 1 upcard each.
Baker isn't mentioned during the initial deal and only re-appears on the 3rd round (fifth card).
King writes (pg. 333) that Baker was anxious and "…pulled out one of his three down cards and turned it over to show four kings."

He should have only 2 down cards, not three.

King writes (pg. 334) "Brower had turned over all three of his down cards to reveal a straight flush, from the eight to the queen.". This is a 2 point error.

He should have only 2 down cards, not three.
This contradicts what we were told he was holding (see below).

There are too many kings in play here. Darrel has his four Kings, but George also has the King of Hearts.
Cards we know prior to the players showing:

| Player | 1st deal | 2nd | 3rd | 4th |
| --- | --- | --- | --- | --- |
| George Gregson | x♥ x♥ x♥ | x♥ | ?? | K♥ |
| Jack Wilden | ?? ?? ?? | ?? | ?? | ?? |
| Andrew French | ?? ?? ?? | ?? | ?? | ?? |
| Jason Davidson | xx xx x♥ | 3? | A? | A? |
| Henry Brower | ?? ?? 10♠ | J♠ | 2♦ | Q♣ |
| Darrel Baker | ?? ?? K?* | ?? | K? | K? |
(*While George does not mention Baker getting this card, on the 3rd deal George says Baker gets a King, making a pair.)
Hands after players show:

| Player | 1st deal | 2nd | 3rd | 4th | Result |
| --- | --- | --- | --- | --- | --- |
| George Gregson | x♥ x♥ x♥ | x♥ | | K♥ | ♥-Flush |
| Jack Wilden | ?? ?? ?? | ?? | ?? | ?? | 1 Pair |
| Andrew French | ?? ?? ?? | ?? | ?? | ?? | ?? |
| Jason Davidson | A? A? A♥ | 3? | ?? | A? | 4-Aces |
| Henry Brower | 8♠ 9♠ 10♠ | J♠ | 2♦ | Q♠ | Straight |
| Darrel Baker | ?? K? K?* | ?? | K? | K? | 4-Kings |
( Note: All page numbers are from the Signet paperback, unless otherwise noted. )
---
This page was last modified on 5/26/2013