Jurassic World: Dominion Dominates Fandom Wikis - The Loop
Play Sound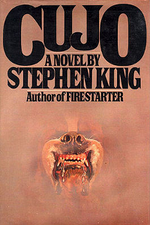 pg. 38

Donna is described as gray-eyed. Later (pgs 149 & 227), she is said to have blue eyes.
pg. 57

Evelyn Chambers -aka Aunt Evvie- age 90, dies of a heart attack while listening to Tad on his swing. We are twice told the date is the last day of June (pg. 37 & 45), and we had been told (pg. 4), that the year is 1980. Yet in "Needful Things" (Part 1 - Grand Opening Celebration, Ch. 2, Subch. 1, pg. 39), we are told "…old Aunt Evvie Chambers died in 1981…"
pg. 74

Vic tells Roger he will pick him up at 5:30 in the morning, but later (pg. 102), Vic says he is supposed to pick up Roger at 6:00 a.m.
pg. 142

Donna wraps some green olives and cucumber slices in foil. On pg. 165, they are both wrapped in Saran Wrap.
pg. 219

Donna is said to be wearing tennis shoes, but later (pg. 228), she kicks at Cujo with her sandals.
pg. 292

The paramedic driver had a syringe, to inject Donna "There was a struggle. The syringe was broken.". Syringes have been made from a very durable plastic for a long time -including prior to Cujo being published-.
( Note: All page numbers are from the Signet paperback, unless otherwise noted. )
---
This page was last modified on 5/26/2013