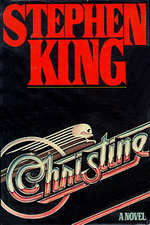 Part I: Dennis - Teenage Car-Songs
[
]
Chapter 18 - On the Bleachers
[
]
pg 164

it says that the bell rung, signifying that there were five minutes until period five started. But later (pg 167), Dennis says the next period is period six.
Part II: Arnie - Teenage Love-Songs
[
]
Chapter 34
[
]
pg 264

Leigh says she promised her mom she would be home at eight-thirty because her parents were "having friends in". When Leigh gets home (pg 278), her mother is dressed in a nightgown. Is that how she always dresses for house guests?
( Note: All page numbers are from the Signet paperback, unless otherwise noted. )
---
This page was last modified on 5/26/2013