Jurassic World: Dominion Dominates Fandom Wikis - The Loop
Play Sound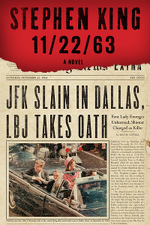 Part II - The Janitor's Father
[
]
Chapter 7
[
]
subchapter 6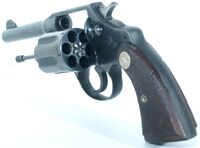 Jake Epping goes to "Machen's Sporting Goods" to purchase a handgun. The clerk shows him a Colt .38 Police Special. The passage reads "This is a fine piece of protection." The clerk said, rolling out the barrel and giving it a spin, click click click click...". Two problems.

As this photo shows, on a revolver, the barrel is fixed to the frame of the handgun. It is the cylinder that moves out for loading and unloading.
When the cylinder is out, spinning it on its axis makes no sound at all.
Chapter 8
[
]
subchapter 8
pg. 193

Mr Turcotte threatens Jake with a bayonet. King writes "I don't know if it was Japanese or not, but from the way it gleamed in the fading dusk light, I was willing to stipulate that it was plenty sharp.". The problem is, that contrary to what is portrayed in films bayonets of that time rarely had sharpened edges. They have a false edge that is more of a wedge than blade.
Part III -Sadie and the General
[
]
Chapter 17
[
]
subchapter 12
pg. 458

Jake speaks with Coach Borman after a football practice session. During the discussion, Hale Duff from KDAM radio is putting away his equipment. His gear includes a microphone that is described as earphones and a salad bowl. Coach explains that this is a long range microphone. Stephen King has him call it an "omnidirectional microphone". The correct term for this type of microphone is parabolic microphone. An omnidirectional microphone collects sound from all directions, the exact opposite concept. A parabolic microphone collects sound from one focused source. While some make excuse this as the coach simply using the wrong term, Jake's buddy at the electronics store also uses this term. Stephen King continues to use this name several times later in the story as well.
| Omnidirectional microphone | Parabolic microphone |
| --- | --- |
| | |
-- Misc.
[
]
Throughout, King refers to Dallas and For Worth as being in Central Texas -- they are not. They are in North Texas or North Central Texas. Central Texas would be from roughly Waco to Killeen. (Also, how does he go get condoms in Killeen and go to fictional Jodie, then Dallas so easily?)
( Note: All page numbers are from the Scribner hardcover First Edition, unless otherwise noted. )
---
This page was last modified on 6/05/2016